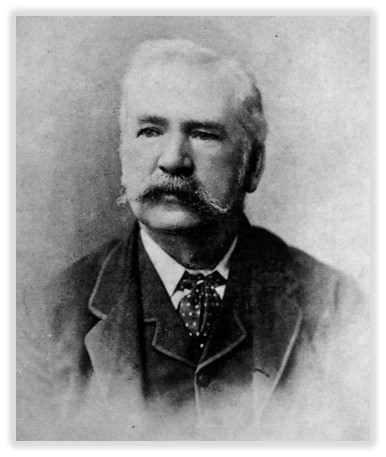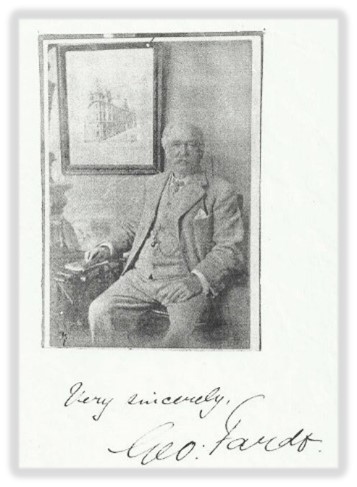 I can't remember exactly when I first became aware of my great-great grandfather George Fardo, or that he was the Postmaster of Cardiff from 1889-1898. Our family in Cardiff — where I was born and grew up before moving to London to pursue a career in music aged 19 — has always been very loving and close knit. So we regularly talked about family members who had passed on, and they were never forgotten. I think I became more aware of George when my mother Betty, the granddaughter of his seventh child Evangeline, showed me his book of poems entitled 'Poetical & Humorous Works of Geo. Fardo Relating to Powysland and North and South Wales'. She said that she would bequeath the book to me. It was published in 1903, the year my grandmother Ruby — my mother's mother and Evangeline's seventh child — was born.
From reading his poems about his family and life in Wales there is poignancy in writing about the loss of his young daughters Agnes Mary Sally in 'Sally' who died at aged 3, and Florence Lily in 'Lily' at aged 6 (he had 15 children in total). And 'A Shropshire School By Oswestry, 1836' a tough Victorian School where he was sent as a young boy after his mother died in childbirth when he was just two. I can recognise the same loving family, and also his love of words, and how they rhyme in his writing which I may have inherited — I have spent most of my career working as a professional singer/songwriter and I have very talented relatives. And although he was born in Maesbury, Shropshire in 1834 and died in Bath, Avon in 1915, George evidently had a great love of Wales which I also share.
George started his career as a Writing Clerk in Oswestry, Shropshire and between 1854-1881 he rose to become the Sub-Controller of the Post Office in Liverpool, and was promoted to Postmaster of Wolverhampton in 1884. A collector of art and china George donated works of Art to Philip Horsman and the Wolverhampton Art Gallery which opened in 1884. Following the death of my great-great grandmother Jane née Jones in 1888, George moved to Penarth and became the Postmaster of Cardiff in 1889. Around this time George was thrown from his horse whilst out riding in the Welsh countryside and became bedridden, and his nurse Emily Matthews Humphreys became his second wife in 1892.
George Fardo was instrumental in many important changes in the Post Office evident in his 1860 poem entitled 'The Postman' about when ''Provincial Postmen worked every Sunday'', written as a reply to a ''friend's complaint that a Postman was impatient at being kept waiting''. George noted that ''Since that date (1860) he had experimented with and formulated a scheme giving all Provincial Postmen in England an alternative Sunday off duty'', and ''he rejoices to add; they now enjoy, the scheme having been sanctioned by Postmaster-General Raikes''. In 1895 George opened the new Post Office Building in Westgate Street in Cardiff to a huge crowd. In 1897 he witnessed the 'telegraphing without wires' Morse code trials of Italian Inventor Guglielmo Marconi, and the first open sea wireless signal that was transmitted and received at Lavernock Point in Wales to Flat Holm Island in the Bristol Channel.
George was a sought-after speaker at functions, and fluent in many languages (I love languages too). However in 1898 after nine years as Postmaster of Cardiff George retired due to ill health, and moved to Bath with his wife Emily where they brought up their three children.
I can see similarities between George Fardo's life and mine, perhaps unsurprisingly as I am descended from him. The most remarkable being, albeit 115 years apart, that George wrote the words for the song entitled 'Jubilee Hymn' which was sang at a banquet at the fete in Compton Hall Park to celebrate Queen Victoria's Golden Jubilee on the 21st June 1887. In 2002 the multi-platinum and MOBO Award winning UK girl group Mis-Teeq that I created opened up the live show for Her Majesty Queen Elizabeth II at the 'Party At The Palace' Golden Jubilee celebrations at Buckingham Palace that was broadcast to millions on TV. So in terms of history repeating itself and a shared experience; it doesn't get much closer than that, and perhaps his legacy of success lives on in his descendants.
Other Articles about George Fardo
George Fardo Postmaster: https://www.walesonline.co.uk/news/local-news/monument-cardiffs-postmaster-poetry-2097711
The Victorian Poet: https://www.walesonline.co.uk/incoming/victorian-poet-who-sounded-first-4801885