When we think of blindness in the Post Office, one example typically comes to mind: that of Henry Fawcett, 'the blind postmaster'. Blinded in a hunting accident at the age of twenty-five, Henry nonetheless managed to fulfil his academic and political aspirations. He oversaw a key period of modernisation in the Post Office, introducing revised pay schemes, an improved Post Office Savings Bank, and the parcel post. Fawcett's blindness was at the forefront of many representations about him. He was represented (often simultaneously) as both an oddity but also, critically, a heroic figure. Fawcett's disability was often portrayed as something he valiantly overcame – a condescending trope about disabled people that persists today.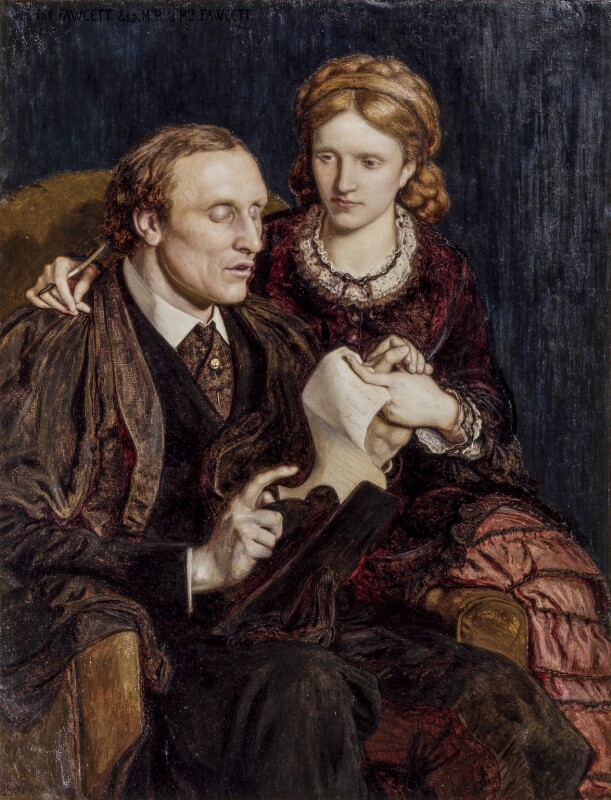 Figure 1: Henry Fawcett; Dame Millicent Garrett Fawcett (née Garrett), by Ford Madox Brown
oil on canvas, 1872 (NPG 1603)
© National Portrait Gallery. Reproduced with permission under the terms of the creative commons license http://creativecommons.org/licenses/by-nc-nd/3.0/
As many historians of disability have noted, disability in the past has often been as the inability to partake in waged labour. However, seeing a labour history of disabled people as just a story of exclusion is misleading. In this vein, historians are paying more and more attention to the ways in which disabled people found ways to participate in the labour market. People like Fawcett were exceptional cases – born into a comfortable middle-class family, Fawcett had the support of servants, female relatives, and later on his wife (the famous suffragette Milicent Garrett Fawcett). Upon being elected to the position of Postmaster General in 1880, he would have also had employees to assist him.
And Fawcett led a branch of the Civil Service that – on paper at least – had entry requirements that excluded many disabled people like himself. Medical inspections for prospective employees included (among other things) tests for eyesight, hearing, and a minimum height requirement. Though, as we noted in an earlier blog, many disabled people did in fact find opportunity for employment in the Post Office despite these rules
There were never any official entry requirements for the role of private postman, however – and this is the role that some blind and partially sighted men (and they were all men) assumed in nineteenth and early twentieth-century Britain and Ireland. The rest of this blog is devoted to the story of just one of these men – an Irish private postman called William Rafferty Orr (1872-1939). William was one of several blind postal workers whose lives we have explored in an earlier talk that we gave to mark the start of Disability History month, which you can watch here.
William Orr
William was born in Belfast and orphaned before the age of five. We are unsure when William moved to Balnamore, near Ballymoney in Ulster, to live with his maternal aunt Eliza Orr (nee Agnew) and her husband William Orr. We're also unsure about the state of his eyesight over the course of his life – did it gradually worsen, or was the deterioration sudden? Was his eyesight loss due to hereditary factors, an accident, an infection, or something else entirely? These are questions we haven't yet been able to answer, and most likely we'll never really know. We can guess, however, that a major change to William's eyesight occurred between 1901 and 1911. This is because in the 1901 census he wasn't registered as blind, but he was on the 1911 census. In both these years he was recorded as a private postman.
It seems likely that William got his job as private postman for Balnamore Mill through family connections – his uncle William and the two aunts he lived with all worked in the linen industry, which dominated Ulster's economy in the nineteenth and early twentieth centuries. Balnamore was home to Balnamore Mill, which was one of the largest linen mills outside of Belfast. Employing hundreds of workers, the business would have generated a large amount of paperwork and relied upon swift delivery of its private correspondence. William was not the only private postman employed by a large business in this period.
It was William's post bag – which is on display at Ballymoney Museum – that first brought him to our attention. We are not sure what other objects besides his bag he used to help him deliver mail, though we know he did not use a cane or assistance dog. So while there are still many gaps in our knowledge about William's life, his bag remains a vital material clue we have about his role as a private postman. With this in mind, we are continuing to use this object to bring forward new stories, questions, and reflections about disability and postal work in the past.
How We Are Telling William's Story
We're working with Ballymoney Museum – which displays William's messenger bag – to make his story more widely known and to draw attention to the relationships between disability and work. How to use collections to tell thoughtful, inclusive, and complex stories about disability is an ongoing concern amongst museum practitioners. Increasingly, museums and disabled people are partnering to reinterpret objects, provoke new questions, and imagine new ways to tell museum stories. Ballymoney has worked on similar projects in the past, partnering with blind and partially sighted people in the community to work with the RNIB to publish a history of blindness and sight loss in Northern Ireland. This, combined with their enthusiasm for researching and reinterpreting William's bag, made them ideal partners for the Addressing Health project.
We decided that one way to make William's bag more accessible was to work on writing and recording an audio description for the bag for the gallery. Over a two day period we worked alongside six museum users with varying degrees of sight loss to explore these issues.
Day one looked at telling William's story. Day two, meanwhile, was all about bags: not only William's bag, but also a contemporary Royal Mail delivery bag, and a satchel made by blind and partially sighted Ulster Supported Employment and Learning workers in Belfast. Working in pairs, users handled each of these bags and told us their impressions. We learned a lot about how important portable storage devices like bags and pockets were to them, which in turn raised questions and ideas about the role that William's satchel played in helping him deliver mail. In this way the lived experiences of these blind and partially sighted users stimulated us to think about what we, as historians, can identify as a historical disability aid. Does an object have to be explicitly designed for the purpose of helping someone with a disability to be considered a disability aid? Does an everyday object like a satchel that has been adapted by or for a disabled person count? Or perhaps the modern category of 'disability aid' isn't an appropriate one for historians to use, because our modern relationship with disability and with work is so different to what it would have been like in William's time.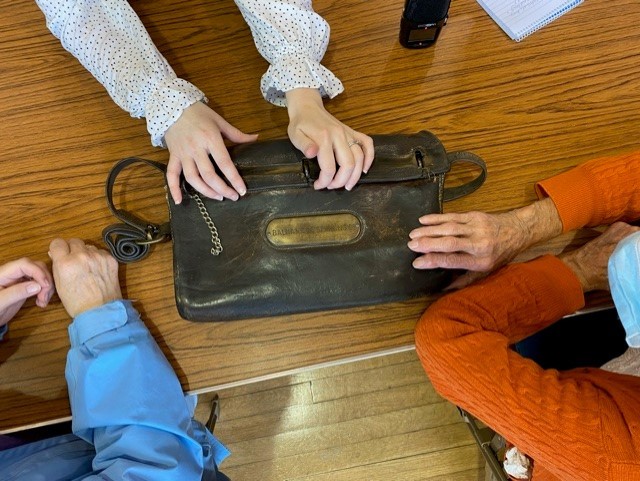 Figure 2: Workshop participants handle William Orr's messenger bag
Photograph by kind permission of Emily Goff
This feedback fed directly into a new audio description for the bag, which will be launched in the gallery early next year and, later, released as part of a project podcast. So please continue to follow the project on Twitter, and sign up for our newsletter to keep updated!
Dr Laura Newman